By Donald H. Harrison

SAN DIEGO, Calif.—From his small home studio, which is divided into a sound booth, a control room and an office area, a man who once dreamed of being a rock star is now teaching children and adult ESL students around the world to read English.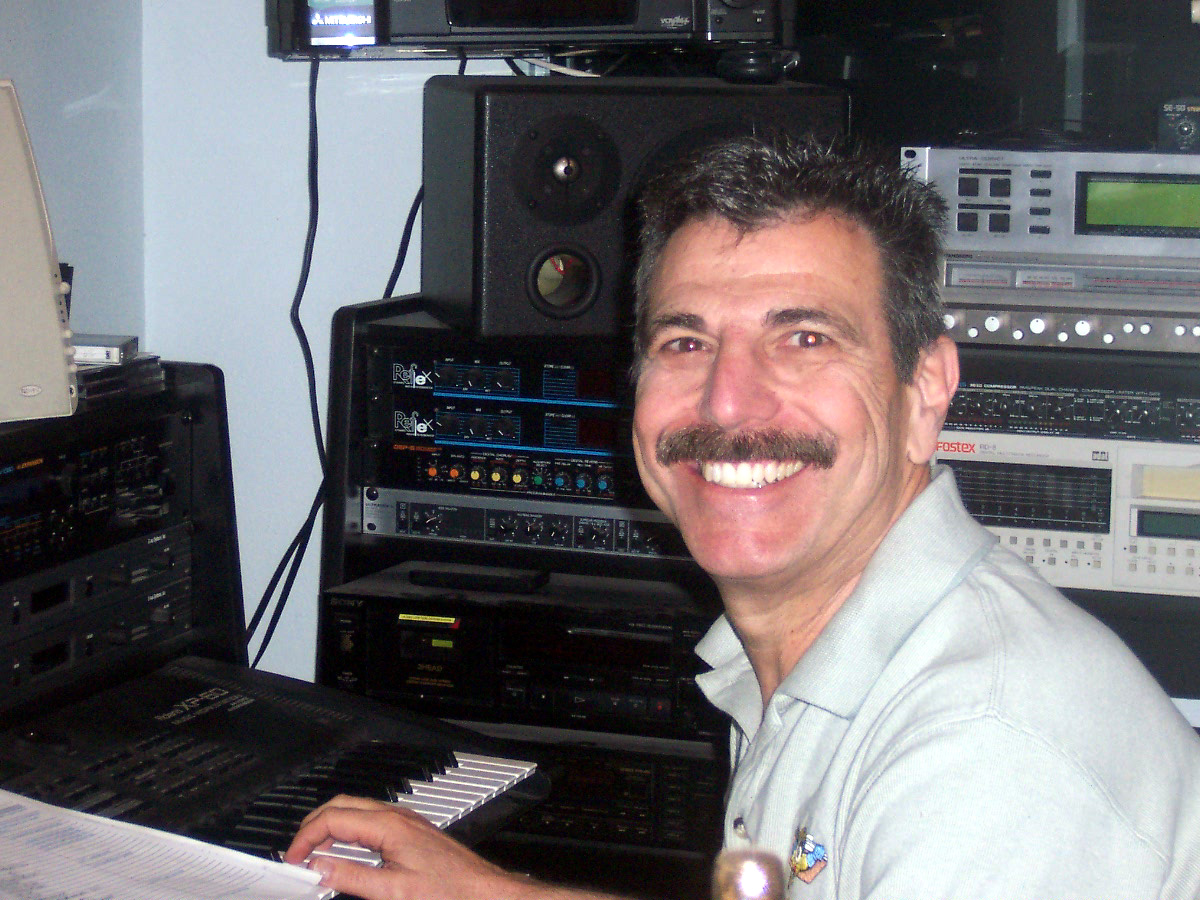 George Fogelman produces computerized read-along stories for his own subscription website, mightybook.com, as well as for other educational sites that contract for his services. Besides training and recording people who narrate the stories, he supplies sound effects and, in some cases, original music. Computerized animation and text that is highlighted as it is rolled over with a mouse further enhances the product.

"It is a medium that tries to make it more fun for kids to learn how to read," said Fogelman. "We have a lot of story songs, songs about animals, and fun songs." One of his favorites is a story about a kangaroo rat that "comes up against a huge rattlesnake and how does he defend himself? Well, he kicks sand in his face, and it is all animated." One of my favorites, offered as a free sample on the website, has a frog teaching a little girl about metamorphosis.

Thus far, Fogelman has produced over 200 stories on his site and even more for educational services that calibrate their vocabulary lists to the grade level of a child. Whereas such services will not utilize any word in a story that is deemed above the specified grade level, Fogelman's stories are under no such restriction. He likens his books to those a curious child might find in the library compared to those the child will be assigned to read in the classroom. He says that as a library complements the classroom, so too does his service complement those offered by the grade specific on-line educational services.

Schools around the nation load mightybook.com programs onto the computers in their reading laboratories. The national Reading is Fundamental program utilizes his product. "We have companies in China using our books to teach Chinese kids English," Fogelman says proudly. Individual families may enjoy the service for $19.95 for a full year.

As a high school student, Fogelman played saxophone and accordion for "The Twilighters," a band inspired by one of the Platters' best-known hits, "Twilight Time." The Twilighters performed at service clubs, graduation parties and bar/ bat mitzvah receptions. While a student at San Diego State University, Fogelman performed in a Sergio Mendez-inspired band called "Sounds of '68." Another band that played for San Diego's well-known stage hypnotist, Dr. Michael Dean, "was getting ready to retire, and we auditioned and got the job... It was 5-6 nights a week, first at the Catamaran Hotel, and then at the Gaslight Room on Rosecrans Street. So I was his musical director."

During that period, Fogelman also opened a recording studio, which produced approximately 250 jingles for radio and television commercials, "probably none that you would know," although some for KMart and DHL Express made it to regional broadcast.

On the Michael Dean show, Fogelman had the opportunity to work with guest artists, among them Cheech and Chong, who were just starting, and singer Roberta Lynn. Additionally, "at one point we got hooked up with KPRI, a rock station, and they had a Friday studio concert and they would come in and record. We had Dr. Hook and the Medicine Show, and Al Kooper came in."

Fogelman wanted to move from control booth to microphone, so he formed a new band, "Peace on Earth" with Jeff Dalrymple, percussion; Doug Kvandal, keyboard, and Dave Maynard, vocalist, hoping their musical careers would take off. "We were trying to be a band without a guitar but alas and alack we had to have a guitarist." Maynard became one, and later, they added guitarist Rafe Lindenberg, "who was very good." At one point, the band felt certain it was headed for a recording contract and national exposure, but "it didn't work out."

Disappointed, Fogelman returned to San Diego and earned a teaching credential so he could substitute teach during the inevitable down times in the music business. One day while running errands with his mother, he stopped by a Home Federal Savings & Loan branch to open a Keogh account. Normally Gail Schindler, who handled his account that day, worked at a different bank branch, so perhaps their meeting was beshert. They were married in 1976, and for Fogelman, it was instant fatherhood—daughter Juliana was a child of Gail's previous marriage. Within a few years, a second daughter, Arianna, arrived. The preschool that Ari attended at the old Jewish Community Center on 54th Street changed the direction of Fogelman's career.

A product of both Tifereth Israel Synagogue and Temple Emanu-El, respectively under Rabbi Monroe Levens and Rabbi Morton Cohn, Fogelman enjoyed Jewish music. With singer Myrna Cohen, he produced a 33 1/3 RPM album, "Special Days For Children" to raise money for the JCC pre-school. Later, he and Cohen, who is today the cantorial soloist at Temple Emanu-El, collaborated on such other tapes (and later CDs) as "Lullabies and Quiet Time," and "Swinging Chai."

The Fogelmans created Jewish Family Productions and made cassette tapes about Shabbat and Chanukah, and later Passover, with Gail writing for the first two productions "wrap-around stories" that were vehicles for introducing children to songs associated with those holidays. Unhappy with the paucity of material available in the mid-1980s "we decided to do something that was really family oriented, that was for the young kids."

After awhile, their production company became allied with Randee Friedman of Sounds Write Productions, Inc., a San Diego-based firm that is one of the nation's leading distributors of Jewish music. Working with Randee Friedman, Fogelman produced several cassettes for Jewish songwriter and singer Debbie Friedman, including "Shirim al Galgalim" (Songs on Wheels), "Shanah Tovah" (A Good Year) and "Miracles and Wonders."

Another project from which Fogelman derives a lot of nachas was the production for Randee Friedman of a 5-CD series that includes a song for every Torah portion of the year. In biblical order, the CDs were: "Sounds of Creation: Genesis in Song," "Sounds of Freedom: Exodus in Song," "Sounds of Holiness: Leviticus in Song," "Sounds of Sinai: Numbers in Song," and "Sounds of Promise: Deuteronomy in Song."

In some cases, there were existing songs to choose from, but in other cases, songs were composed specifically for the project. The production team drew on a combination of national and local known talent including Debbie Friedman, Myrna Cohen, Rabbi Joe Black, Doug Cotler, Julie Silvers, Myla Lichtman Fields, Rabbi Martin Lawson of Temple Emanu-El, and Cantor Alisa Pomerantz-Boro, then of Tifereth Israel Synagogue.

"It had never been done before," Fogelman said.

Fogelman began Mightybook in the 1990s when computers were barely fast enough to accommodate the flash animation and musical accompaniment he had in mind. But as computer speeds increased, so did the popularity of Fogelman's niche technology.

While Fogelman could think of just one mightybook story with specific Jewish content, "The Sabbath Queen," narrated by Myla Lichtman Fields, other clients have commissioned him to produce stories from the Tanakh. For example, Guidepost, a Christian-oriented educational company, had him produce interactive DVDs on Adam and Eve, Noah's Ark, David and Goliath, and Jonah.

Today, Fogelman barely has time to emerge from his studio, where he produces an expanding list of interactive educational texts and talking stories. In addition to the professional talent he employs, neighbors and friends often are recruited to read the stories, their introductions to the world of "voice-over" eased by the sometime-substitute-teacher's constant encouragement. "That's very good!" Fogelman will assure a reader over his or her headset. "Now, let's do it one more time."

Through such a process, I have been privileged to read non-fiction books for children about Nobel Peace prize winners, about special effects in motion pictures, about human heredity, and even the famous Greek myth about King Midas. From personal experience, I can tell you the process is a pleasure!