By Donald H. Harrison

SAN DIEGO, Calif.— Adrianne Shaw Rubin, the former San Diegan who efficiently managed such institutions as Congregation Beth El and the Agency for Jewish Education, was kind enough to send from Las Vegas, Nevada, where she now lives, some clippings about the memorial service held last Wednesday (June 14) for Chic Hecht, a former U.S. Senator and later U.S. Ambassador to the Bahamas.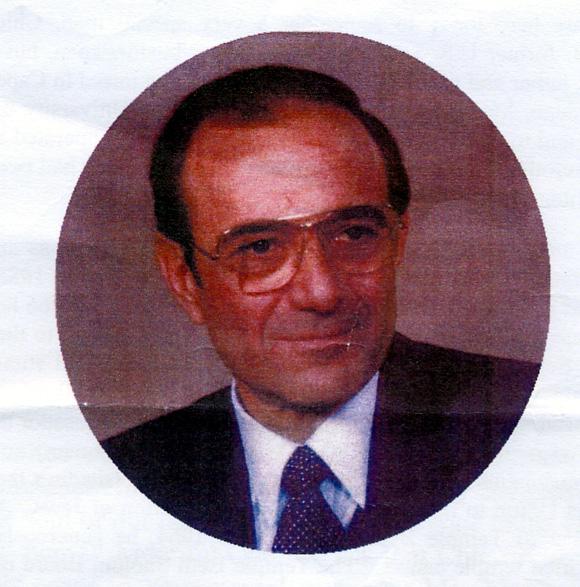 I was struck by a Las Vegas Review-Journal photo taken of Hecht's widow, Gail, being comforted by two distinguished, gray-haired men wearing white kippot—former U.S. Senator (and Nevada Gov.) Paul Laxalt and current U.S. Senator (and 2004 Democratic Presidential candidate) John Kerry—during the memorial services at Temple Beth Sholom in Las Vegas. Hecht , 77, had died May 15 of prostate cancer and private funeral services had been conducted here in San Diego, hometown of his wife, the former Gail Kahn.

As I looked at the photo, in an instant so much history flashed by. I had been a reporter in Sacramento for the Associated Press in 1968 when I first met Laxalt, briefly, when he was governor of Nevada and a devoted follower of our California governor, Ronald Reagan, whom he later would help elect as president of the United States. I also remembered that my long-time rabbi, the late Aaron Gold, had been the rabbi at that same Las Vegas synagogue just prior to coming to San Diego to lead Tifereth Israel Synagogue. I remembered that while serving as editor of the San Diego Jewish Press-Heritage, I had covered John Kerry in a San Diego home where he was introduced by former U.S. Rep. Lynn Schenk (D-San Diego).

But most of all I remembered meeting Chic Hecht through the courtesy of one of the first ladies of San Diego's Jewish community, Teedie Appelbaum, who was his sister. Teedie has suffered the double blows this year of the death of her brother and that of her husband, Irving Appelbaum, who, at Teedie's side, had been a benevolent presence at almost every Jewish program and fundraiser that I have covered in San Diego. She is gentle, sweet, devoted to our community's welfare, and as unassuming a person as anyone has ever meet. Show me an active member of San Diego's Jewish community and I will show you an admirer of Teedie's.

Laxalt and Chic Hecht were political colleagues, brother Reagan Republican U.S. senators from Nevada, and so, I would have been surprised if Laxalt, his mentor, had not been there. But Kerry—a liberal Democrat—why was he there? The news article by Molly Ball supplied the answer. In 1988, when Hecht was seeking reelection to a second term, Kerry was the campaign chairman for U.S. Senate Democrats, one of the men responsible, as it turned out, for Laxalt being defeated by Democrat Richard Bryan.

Kerry stepped off an elevator one day and found Hecht choking on an apple. He quickly administered and readministered the Heimlich maneuver until the piece could be dislodged from Hecht's throat. The Democrat saved Hecht's life. That, in Hecht's view, was far more important than the fact that they were political adversaries. People win and lose elections—he, himself, had surprisingly defeated longtime Senator Howard Cannon (D-Nev.) in a 1982 upset. But saving a person's life—that was a bond that one could not forget. From that day on, Hecht telephoned Kerry each Christmas day to thank him for the gift of his life.

More than that, when Kerry was opposing President George W. Bush for reelection, Hecht not only retold the story publicly but also made financial contributions both to Kerry and to Bush. "What I did for Chic is exactly what any of us would have done for Chic in that situation," Kerry told the Las Vegas assemblage. "But let's be honest with ourselves, what Chic gave to me in return was not what most of us would do."

Following his U.S. Senate defeat, Hecht was appointed as U.S. ambassador to the Bahamas by the first President Bush. The Review-Journal in an editorial remembered that Hecht was never one for double-talking. Why was it that he wanted to be ambassador to the Bahamas, he was asked during the confirmation process. "I love golf and they have a lot of nice golf courses and good fishing," he said, causing a stir. As it turned out, he not only played golf and fished in the Bahamas, he worked with the government of that country on an effective drug interdiction program.

The senator-turned-ambassador had started life as Jacob Hecht in 1928 in Cape Girardeau, Mo., and had served in U.S. military intelligence in Eastern Europe during the 1950s—an assignment for which he later was named to the Army Intelligence Hall of Fame. Owner of a women's clothing store in Las Vegas, he later surprised Nevadans by becoming the first Republican elected to the state Senate from his county. He rose to Republican leader of the State Senate before his successful bid for the U.S. Senate.

Perhaps no accomplishment was more significant to Hecht than the role he played helping Soviet Jews who wanted to emigrate to the United States or to Israel. I had heard some of the story from Marty Hecht, brother of Chic and Teedie, once when I was writing about the Hecht Synagogue at Hebrew University in Jerusalem—a synagogue that Marty and family had helped to underwrite. Marty told me that on April 5, 1990, former Soviet "Refusenik" Evgenij Balter married Inga Kosyrskaya in the Noah's Ark-shaped sanctuary as a way of paying tribute to his brother, Chic.

In an interview, I asked the former senator about his efforts in behalf of Refuseniks. After his election to the U.S. Senate, he replied, he and Marty met with the Lubavitcher Rebbe, Menachem Mendel Schneerson who urged him to do whatever he could through "quiet diplomacy" to held the Soviet Jews. Quiet diplomacy, the rebbe emphasized, works far better than public confrontation.

A bill came before the U.S. Senate to sell arms to Saudi Arabia, mostly spare parts. The Jewish community mobilized in opposition to the bill, but Reagan asked Hecht to stand with him. The President said that Saudi Arabia was not a threat to Israel the way Iran under Ayatollah Khomeini was. Reluctantly, because he knew the heat he would take for such a vote, Hecht agreed to side in the Senate with the President. But someday, he told Reagan, he might need to come to him for a favor. Although Hecht voted for the Saudi deal, the measure nevertheless was defeated.

In 1986, Reagan had a summit meeting with Soviet leader Mikhail Gorbachev in Reykjavic, Iceland, to discuss thawing of relations. Irving Appelbaum's sister-in-law, Marilyn Tallman of Chicago, was an activist in the Council for Soviet Jewry. She sent to Hecht a list of 1,200 Refuseniks, Soviet Jews who had been denied permission to emigrate, asking him to help if possible. Hecht brought the list to Reagan, pleading with the President to ask Gorbachev to permit them to leave the Soviet Union.

The former senator related that Reagan told him afterwards that he had given the list to the Soviet leader at the beginning of the summit when the two men met alone. Hecht said that Reagan was told by Gorbachev, "as long as nothing is in the paper, there is no publicity, and we don't hear about it," Jews on the list would be quietly released. Evgenij Balter, a computer programmer, was one of the names on that list.

In its fond farewell to Hecht, the Review-Journal said in an editorial, "Shortly after his election, the Wall Street Journal named Hecht 'a walking gaffe machine' for his malapropisms, most famously referring to the proposed Yucca Mountain nuclear waste depository a 'nuclear suppository'—though many have since argued the description is apropos."

The Review-Journal went on to say, fittingly, "Chic Hecht wasn't a towering figure with a handsome mane of silver hair...But if there were 535 honest, straight-talking men and women like him in Washington, ours would be a different and a better nation."

Chic Hecht was a man of whom our Jewish community can be rightly proud.