By Donald H. Harrison

Anticipating major efforts to explore the Jewish history of Los Angeles by a half dozen academic institutions and cultural centers, Western States Jewish History has devoted its current quarterly edition to "Pioneer Jews of Los Angeles in the Nineteenth Century." It has brought together in a 297-page volume, including index, some 40 articles and essays that draw on the works of numerous scholars including the late co-founders of the journal, Norton Stern and Rabbi William Kramer.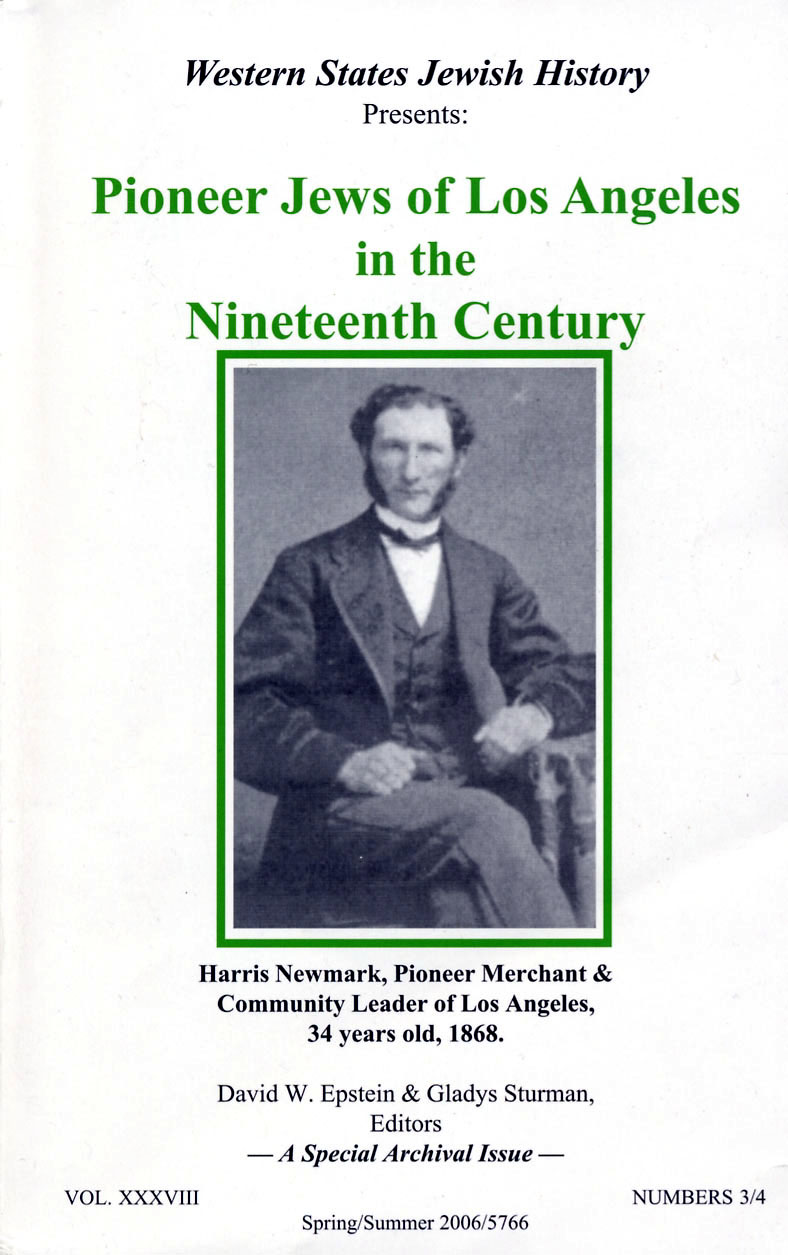 The stories told therein are filled with surprises, especially for anyone who associate the words "Jews" and "Los Angeles" only with movie-making. In addition to tracing the development of such Jewish communal institutions as benevolent societies, synagogues and cemeteries, this compilation illustrates how extensively Jews were involved in the business and civic life of Los Angeles long before anyone ever thought of movies.

At home in San Diego, 120 miles south of Los Angeles, I found myself, while reading the essays, compiling a rough chronology to help me integrate the diverse offerings on Los Angeles' growth. Western States Jewish History editors David W. Epstein and Gladys Sturman in this "special archival issue" supplemented the works of Stern and Kramer with diary entries and articles by Stephen Aron, Harriet Ashby, Richard I. Carrico, Reva Clar, Thomas Cohen, Dudley Gordon, J.A. Graves, Erik Greenberg, Victor Harris, Virginia Katz, Francine Landau, David N. Myers, Harris Newmark III, Myer J. Newmark, and Tom Owen.
The following chronology is offered with the hope that it will help provide some background for the exploding amount of research into "Jewish Los Angeles" by such institutions as UCLA, USC, the Autry National Center, the Skirball Cultural Center, the Huntington Library and the University of Judaism. For identification purposes, I have underlined the names of the Jews.

1846—Jacobo Frankfort, considered Los Angeles' first Jewish settler, signs a resolution to defend the Mexican pueblo of Los Angeles from invaders during the days of the "Bear Flag Revolt." After California falls to the United States in the Mexican-American War, Frankfort reconciles himself to changed circumstances.

1850—Morris Goodman is elected to the first Los Angeles City Council. Not a Sabbath observer, he sponsors a successful resolution that the City Council hold its special meetings at 4 p.m. on Saturday afternoons.

1851—The first U.S. Census of Los Angeles enumerates 1,610 residents, eight of whom are Jews. The eight, including Frankfort and Goodman, have their dwellings and businesses in a single block in what is today downtown Los Angeles.

1852—In November, Goodman becomes part of a vigilance committee to try to track down whoever murdered Joshua Bean near the San Gabriel Mission. Bean, who headed California's militia, also had served as the first mayor of San Diego in 1850 .... Myer Newmark begins a sea voyage that will take him from New York around the tip of South America to California, keeping a diary that today is part of the California historical record.

1853—Arnold Jacobi serves on the Los Angeles City Council.

1854—Solomon Lazard is elected to the Los Angeles City Council, less than two years after the native of Alsace-Lorraine becomes a U.S. citizen.... In the same year when the Jewish community numbers about 30, Solomon Nunes Carvalho arrives in Los Angeles with the fifth expedition of John Charles Fremont. On July 2, he helps to organize the Hebrew Benevolent Society. Samuel Labatt becomes the organization's first president. To raise funds for the support of indigent persons, Carvalho raffles off three of his paintings, among them a portrait of Mexico's last governor of California, Pio Pico. Carvalho came from a well-educated family. His uncle was Emanuel Carvalho, whose Hebrew grammar was the first one edited by a Jew to be published in the United States.

1855—Harris Caspar, a storekeeper serving mining camps on the Kern River, is fatally shot on February 23 by William Ferguson. His body is brought to Los Angeles for the first burial in the old Jewish cemetery at Chavez Ravine (California Historical Landmark 833), necessitating formal conveyance of the property to the Jewish community on April 9..

1856—Goodman is elected as Southern California District Deputy Grand Master of the Odd Fellows. Such fraternal organizations as the Masons and the Odd Fellows are important to the social and business integration of Jews with the Gentile community.

1859—Myer J. Newmark is admitted to the Bar on August 15 by Circuit Judge Benjamin Hayes, becoming the first Jewish attorney in Los Angeles.

1860—Maurice Kremer serves as Los Angeles County Treasurer through 1865... Morris Goodman and Julius Morris are both elected to the Los Angeles County Board of Supervisors. .. Sometime in this decade, Jacob Elias purchases Rancho San Rafael, a 36,000-acre property that will much later be become the City of Glendale.

1861—Solomon Lazard is elected again to the Los Angeles City Council, a non-consecutive term.

1862—Recruited from San Francisco, Rabbi Abraham Wolf Edelman helps the Jewish community of Los Angeles start Congregation B'nai B'rith, which meets in rented quarters. Myer J. Newmark, whose first name is sometimes spelled "Meyer," is elected as Los Angeles City Attorney by a margin of two votes over incumbent James H. Lander. However, he resigns four months later to open a practice in Nevada.

1865—Harris Newmark, angered by a boast by well-financed merchant Prudent Beaudry that he would drive every Jew in Los Angeles out of business, decides to turn the tables on Beaudry. He persuades Phineas Banning, owner of a company that carries freight between Yuma and the coast but which has been shut out of the Los Angeles market by Beaudry, to go into business with him. Deciding to sell goods at cost and steamer freight plus $7.50 per ton, Newmark and Banning so seriously undercut Beaudry's business, that the latter sells his business to the partners six months later, according to Newmark's account.

1868—Henry Wartenberg is elected to the Los Angeles City Council. A merchant in partnership with Wolf Kalisher, Wartenberg also is instrumental in establishing the city's volunteer fire department.
1869—Harris Newmark, happening by a land auction, hears a bid for $7, and decides to raise it by 50 cents, not even knowing what property is being auctioned. His bid for land along what later becomes Wilshire Boulevard is successful, and some years later he sells the parcel for $10,000. ... Prudent Beaudry, evidently believing about Jews if "you can't lick 'em, join 'em, " enters into a partnership with Solomon Lazard and John S. Griffin to purchase the lease of the city's water works. Their company runs the water works until 1899, when it is purchased by the Los Angeles Department of Water and Power. ... Isaac Lankershim, a Jewish convert to the Baptist faith, purchases 60,000 acres of the San Fernando Valley from Andres Pico. Members of Lankershim's family and business associates remain steadfastly Jewish.

1870—The U.S. Census puts the population of Los Angeles at 5,728. Of these about 330 are believed to be Jews. Included in the Los Angeles count is Rabbi Hyam Zvee Sneersohn, a great-grandson of Shneor Zalman, founder of the Chabad movement. The rebbe is not really a Los Angeles resident, however; he just happens to be in Los Angeles on a lecture tour while the census is being conducted.... Mrs. Wolf Kalisher, becomes the first president of the Ladies Hebrew Benevolent Society... During this decade, Olegario, hereditary leader of the Temecula Indians, campaigns throughout the state for fair treatment of Native Americans. Befriended and partially financed by Wolf Kalisher, Olegario travels to Washington D.C., where he helps to persuade U.S. President Ulysses S. Grant to reserve tracts of land in San Diego County for several Indian bands.

1871—Isaias W. Hellman and John G. Downey organize Farmers & Merchants Bank.

1872—Hellman is among the organizers of a successful effort to persuade the Southern Pacific Railroad to bring a southern transcontinental railroad to Los Angeles, rather than to San Diego, which previously had been designated by Congress as an intended terminus.

1873—After organizing meetings, Solomon Lazard is elected as the founding president of the Los Angeles Chamber of Commerce.... Congregation B'nai B'rith erects its first home on Fort Street, which is later renamed as Broadway. Years later, the congregation will move and be renamed as the Wilshire Boulevard Temple.

1874—B'nai B'rith Lodge 224 is established. Samuel Prager is elected its first president.

1876—Bernard Cohn is elected to the Los Angeles City Council... Maurice Kremer serves as County Tax Collector through 1879.

1878— Upon the death of Mayor Frederick A. MacDougall, Councilman Bernard Cohn serves as mayor pro tem. He is nominated for mayor by the People's Party but is defeated by James M. Toberman of the Workingmen's party. A letter from T.D. Mott to a local newspaper during the campaign grumbles about the extent of Jewish political power in Los Angeles: "Mr. Myer J. Newmark, occupying the distinguished position of chairman of the County Democratic Central Committee, takes great delight, perhaps regards it his duty to run the Democratic Party so that Mr. (Maurice) Kremer his brother-in-law shall hold office perpetually, that Mr. (Emil) Harris shall be chief of police, Mr. Charles Prager shall be a member of the Board of Supervisors...Mr. B. Cohn, the mayor (pro tem) of the city, and Mr. I.W. Hellman, the custodian of the funds of the city and county to bank on—all of a kindred race."

1879—Isaias W. Hellman, John G. Downey, and Ozro Child, respectively a Jew, Catholic and Protestant, form a Methodist educational institution which becomes the University of Southern California. They give 308 lots of land to a foundation for the creation of the university.
1881—Isaias W. Hellman is appointed as a regent of the University of California, serving until 1919.

1883—Eugene Germain serves as the first president of the Los Angeles Board of Trade... Ten years later, he would be named by U.S. President Grover Cleveland as U.S. Consul in Zurich, Switzerland.

1885—Rabbi Emanuel Shreiber becomes the second spiritual leader of Congregation B'nai B'rith. The story is told that congregation preferred someone less Orthodox than Rabbi Edelman, but historians Stern and Kramer dispute this oft-told version, suggesting instead that the congregation simply wanted to retire their pioneer rabbi in order to have a younger, more socially acceptable and modern-appearing rabbi. They point out that the congregation had already incorporated many elements of Reform during Edelman's tenure.

1889—Funeral procession for Bernard Cohn from his residence on Main Street to the Jewish cemetery in Chavez Ravine is considered the longest thus far seen in Los Angeles.

1890—Isaias Hellman relocates to San Francisco, purchases the Nevada Bank, and merges it with Wells Fargo, retaining the Wells Fargo name.

1895—Cornerstone laid for Congregation B'nai B'rith's second home at Ninth and Hope Streets... Meanwhile, a start-up Orthodox congregation, Kahal Israel, conducts separate High Holiday services.
1896—Herman Silver is elected to the Los Angeles City Council.

1897—Under the name of Emanu-El, the first Jewish newspaper of Los Angeles makes its appearance. The name is the same as that of an older newspaper in San Francisco, drawing protests. The following year the Los Angeles paper changes its name to the B'nai B'rith Messenger. Victor Harris is the first editor.

1899—Congregation Beth El is formed. It later merges with Kahal Israel. Neither wants to give up its name so they compromise and Congregation Beth Israel is formed, drawing part of its name from each. It is the oldest Orthodox congregation in Los Angeles. Rabbi Michael Solomon, who had become Congregation B'nai B'rith's fourth rabbi after succeeding Rabbi Abraham Blum, becomes the first rabbi of Congregation Beth Israel. He later takes up the practice of law.

1900—As City Council president, Herman Silver asks for excused absence and receives formal best wishes of colleagues to attend Jewish High Holiday services.
1901—Kaspare Cohn serves as president of Congregation B'nai B'rith, serving until 1910.
1902— Kaspare Cohn presents a building to the Los Angeles Hebrew Benevolent Society for use as a hospital. Initially called Kaspare Cohn Hospital, it later becomes Cedars of Lebanon Hospital, and today is Cedars-Sinai Medical Center. ... Home of Peace Cemetery on Whittier Boulevard is dedicated as consecrated ground. Jewish pioneers previously buried in Chavez Ravine are subsequently re-interred at the Home of Peace.

1909—Herman Silver Lake is named for Herman Silver, who served on the city's first Board of Water Commissioners. Today people refer to the area near the reservoir as the Silverlake district, perhaps thinking the name refers to sparkling water.
1916—Sixty Years in Southern California by Harris Newmark is published three years after his 1913 death, providing a rich resource for historians of California Jews.

Sturman, publisher and editor-in-chief of Western States Jewish History, may be reached via the email address WSEditor1@sbcglobal.net for information and subscriptions. The writer of this article, Donald H. Harrison, serves as an the publication's editorial advisory board.