By Donald H. Harrison

We all like to marvel about "Jewish geography"—how everybody in the Jewish community knows someone else, who knows someone else—but it's much better than a pleasant fact of Jewish life for the Zilberberg family of Nahal Oz, Israel. Such community connections are helping the kibbutz family in its desperate quest to save the life of eight-year-old daughter, Chen (with the 'ch' in her name pronounced like the 'ch' in 'Chanukah').
Until about three months ago, Chen was happily another skinny girl running around the kibbutz that is part of Israel's Sha'ar Hanegev region, located in the northern Negev right alongside the Gaza Strip. But she started to have problems with her balance, and then one day she told her mother, "mommy, I see two of you." Her parents, Keren and Amir, took her for an eye examination, and the doctor told them that they should go to an emergency room—the problem was not with her eyes.
In the emergency room of a hospital in Ashkelon, the closest city to the kibbutz, Chen was diagnosed as having a brain tumor. Her parents were advised to take her as quickly as possible to Ichilov in Tel Aviv, where perhaps they would be able to treat her. An MRI revealed that the tumor sat on the brain stem, in a location too dangerous for surgery. At nearby Tel HaShomer Hospital, Chen underwent 30 days of radiation therapy, which caused the tumor to shrink a little bit. However, the cancer and the treatment have been very difficult for the once-smiling little girl. Her metabolism has changed, causing her to put on weight. Her face is swollen.
According to family friend, Zohar Lahav-Shefer, doctors in Tel Aviv advised that there was nothing more to be done in Israel. In the United States, however, there were experimental programs that might benefit Chen. One of them was at the M.D, Anderson Cancer Center of the University of Texas, in Houston, where Dr. Johannes E.A. Wolff specializes in the field of pediatric neuro-oncology.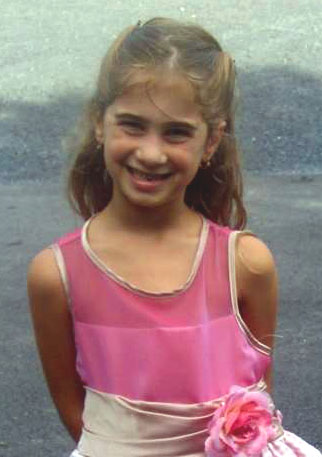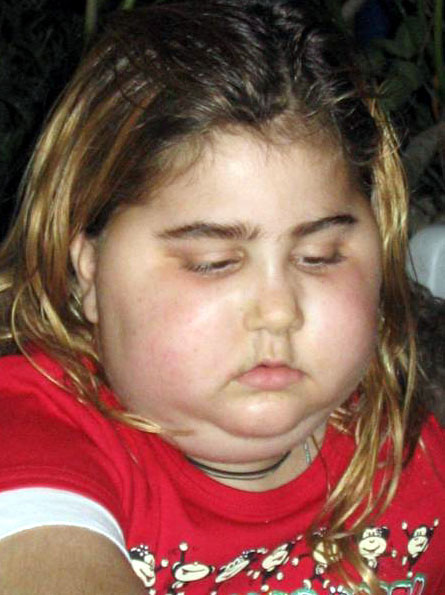 Chen, before and after—Chen Zilberberg, 8, is pictured at left in a party dress before the
symptoms of her brain tumor appeared. At right, the child is shown as she looks now following
radiation. The photos were provided by Keren Doron-Katz, a family friend in Israel.
There is a chance for Chen's survival and recovery, however, surgery, 18-weeks of follow-up treatment, not to mention travel and living expenses, would be expensive—an estimated $500,000—a figure which, when translated into Israeli shekels, nearly 2.5 million, caused Chen's parents even more despair. How could they ever raise that kind of money?
That's when Jewish "geography" asserted itself. The mayor of Sha'ar Hanegev, Alon Schuster, and other kibbutzniks in the area organized a fundraising drive. They contacted friends, and this is a region in Israel that has many political connections. Schuster's predecessor as mayor—Shai Hermesh—is treasurer of the Jewish Agency for Israel and the World Zionist Organization. Israel's Prime Minister Ariel Sharon owns a ranch in the Sha'ar Hanegev area. Even the new leader of the Labor Party, Amir Peretz, comes from Sderot, a small city surrounded by the kibbutzim of Sha'ar Hanegev. With such connections, the word went out. Television and radio stations told of little Keren's plight. Some media outlets donated public service spots. The community rallied to the Zilberberg's side. About $150,000 was raised—enough to give the family confidence that they might eventually get to their goal.
While all this was occurring, Michael Rassler, the executive director of the United Jewish Federation of San Diego County, was visiting Sha'ar Hanegev, which is the "partnership" region of Israel with which San Diego Jewry has a close connection. San Diegans serve with Israelis as directors of the Ibim boarding school in the Sha'ar Hanegev for new immigrants. There are exchanges between teachers, students, and social welfare officials of San Diego and Sha'ar Hanegev.
One of the Zilberberg family's nagging worries was what would happen to them once they flew to Houston, where they knew no one. How would they get around? How could they focus on their daughter's recovery in a city where they were strangers? "I can help," said Rassler. He made a telephone call to an old friend and colleague, Lee Wunsch, the executive director of the Jewish Federation in Houston. During Hurricane Katrina, the Houston Jewish community had rallied to the aid of refugees from New Orleans. In fact, the New Orleans Jewish Federation set up temporary headquarters in Houston in the immediate aftermath of the hurricane. The Houston Jewish Federation has a lot of experience helping people who are uprooted.
Through the Houston Federation, contact was made with Chabad in Houston, which operates the Aishel House apartments near the M.D. Anderson Cancer Center. Chabad's Rochel Lazaroff messaged the welcome news back to Mayor Schuster that Israeli-born volunteers would greet the Zilberbergs on their arrival Wednesday, November 16, at Houston airport and that from there they would be taken to the apartments. "We provide meals for the residents of the apartments when it is most convenient for them. In addition, one of our volunteers will set them up with groceries, etc. We will make sure that all of their needs outside the hospital will be taken care of, so they can concentrate on Chen's healing process without having to worry about anything else," Lozoroff wrote.
The Jewish Community Foundation of Houston is headed by Lolly Friedman, who told jewishsightseeing.com: "I'm a cancer survivor myself. I know M.D. Anderson very well. Chen will be in good hands, and I'm going to make it my personal business to look out for her."

There are various fundraising efforts to help Chen and her family, which also includes brother Or, 10, and baby brother, Tomer, 17 months. In the San Diego area, anyone desiring to assist her family to pay for her treatment may write a tax-deductible check to the United Jewish Federation, 4950 Murphy Canyon Road, San Diego, CA 92123 and mark the memo line "Help Chen Fund."
"Jewish geography," they call it. It's a blessing.