Le Tango des Rachevski (The Rachevski's Tango) directed by Sam Gabarski, Belgium/ France/ Luxembourg, 2003, 97 min., 35 mm, Color, French with subtitles. It will be shown at 8:30 p.m., Saturday, Feb. 19, at the AMC Theatres, La Jolla, and at 4 p.m., Sunday, Feb. 20, at the Ultrastar Theatres, Poway, during the San Diego Jewish Film Festival.

Reviewed by Donald H. Harrison

Except in the visions of Dolpho Rachevski, the brother-in-law who loved her, we never meet Rosa Rachevski—a tango-loving matriarch whose death at age 81 prompts her family to examine their true relationship to Judaism.
|
There are her sons Simon and David who have a secret—they were never circumcised because Rosa was afraid the nazis would come back. There's Simon's wife, Isabelle, a Christian who wanted to convert to Judaism but was discouraged from doing so by her husband. Now, she feels she'll always be excluded from the Jewish people.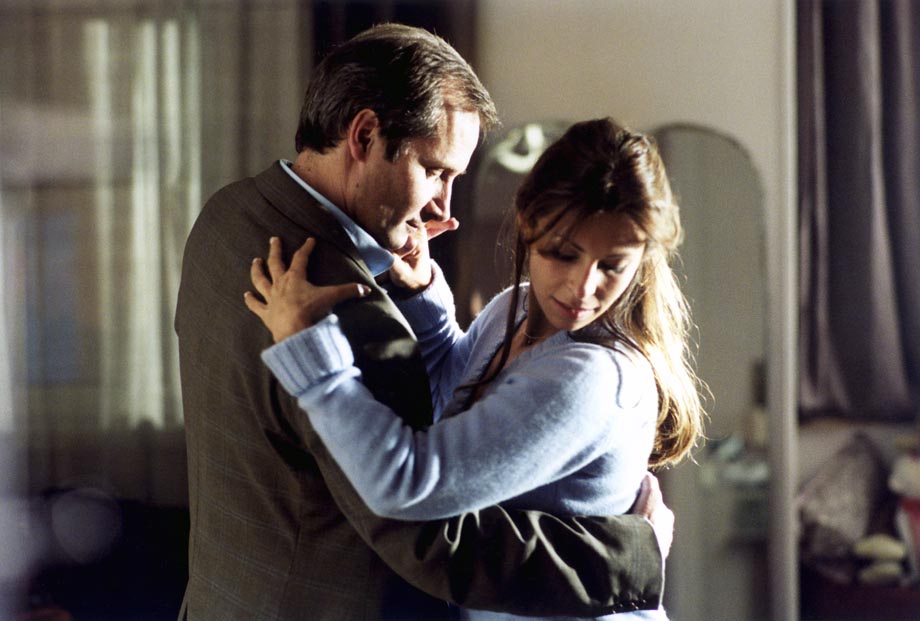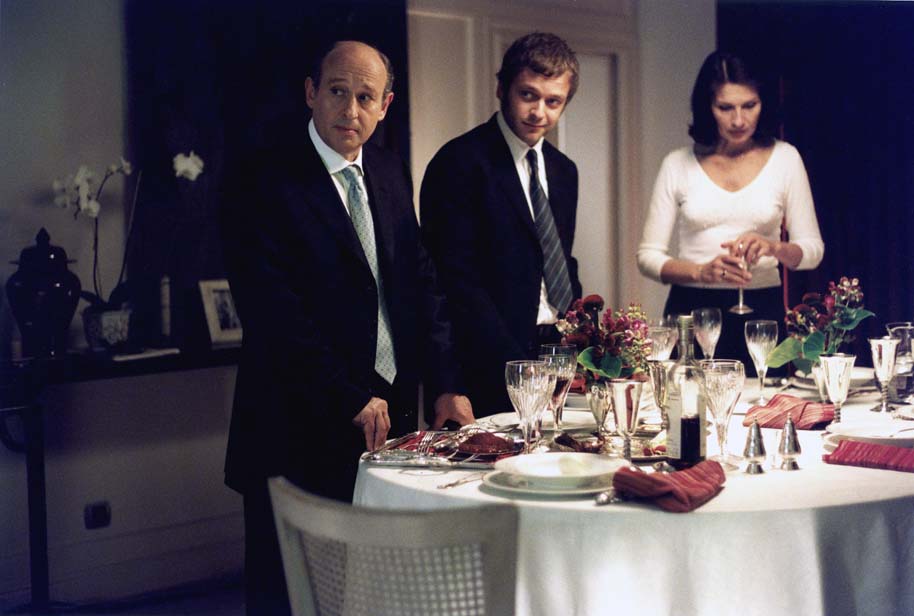 Lovers Antoine (Hippolyte Girardot) and Nina (Tania Gabarski) tango in photo at left; her parents Simon (Mikel Jonasz) and Isabelle (Ludmila Mikael) and brother Jonathan (Jonathan Zaccai) are arrayed around the table in photo at right. Both photos copyrighted by Jean Paul Kieffer

There is even more variety in the next generation. Ric loves an Arab girl. Jonathan is a closeted homosexual. Nina wants to be Jewish, even though her mother was not. She is courted by Antoine, a Christian who says he would even circumcise himself to win her love.

And in Israel, there is Rabbi Shlomo, the missing patriarch of the clan, who eschews contact with his brother Dolpho, his wife Rosa, or any of the delightfully complicated family we come to know. In contrast to Rosa, her former husband Sam—now Rebbe Shlomo—has become haredi and considers the assimilated Rachevskis to be less than Jewish.

The tango is a unifying theme in the movie—not the Argentine tango, which is so professional, but the "Polish" tango—the dance learned by a people to whom it is not natural. Rosa had a saying, manifestly untrue, that "if you can tango, nothing can happen to you"

Antoine (Hippolyte Girardot) and Nina (Tania Gabarski), whose story is the main subplot, fall while tangoing. And after a family Passover seder is ruined by Dolpho's (Nathan Cogan's) careless comment about Isabelle (Ludmila Mikael) not being Jewish, the family consoles itself by dancing the tango.

Circumcised or not, converted or not, everyone in this movie wants some connection to Judaism—even the beautiful Arab woman who loves grandson Ric. Ultimately, Judaism is everyone's tango partner. For those who worry about the vanishing Jewish community, Le Tango des Rachevski provides great hope.