Watermarks directed by Yaron Ziberman, Israel, 2004, 77 min., 35mm, color, English/Hebrew/German with subtitles. San Diego Film Festival: 5 p.m., Tuesday, Feb. 15, AMC Theatres

Reviewed by Donald H. Harrison
Yaron Ziberman united past and present by persuading six former swimmers for Ha Koach, the pre-Holocaust Jewish swim team of Vienna, to travel from their homes in Israel, Great Britain and the United States to swim once again in the Vienna pool where they had won national medals and fueled Jewish pride.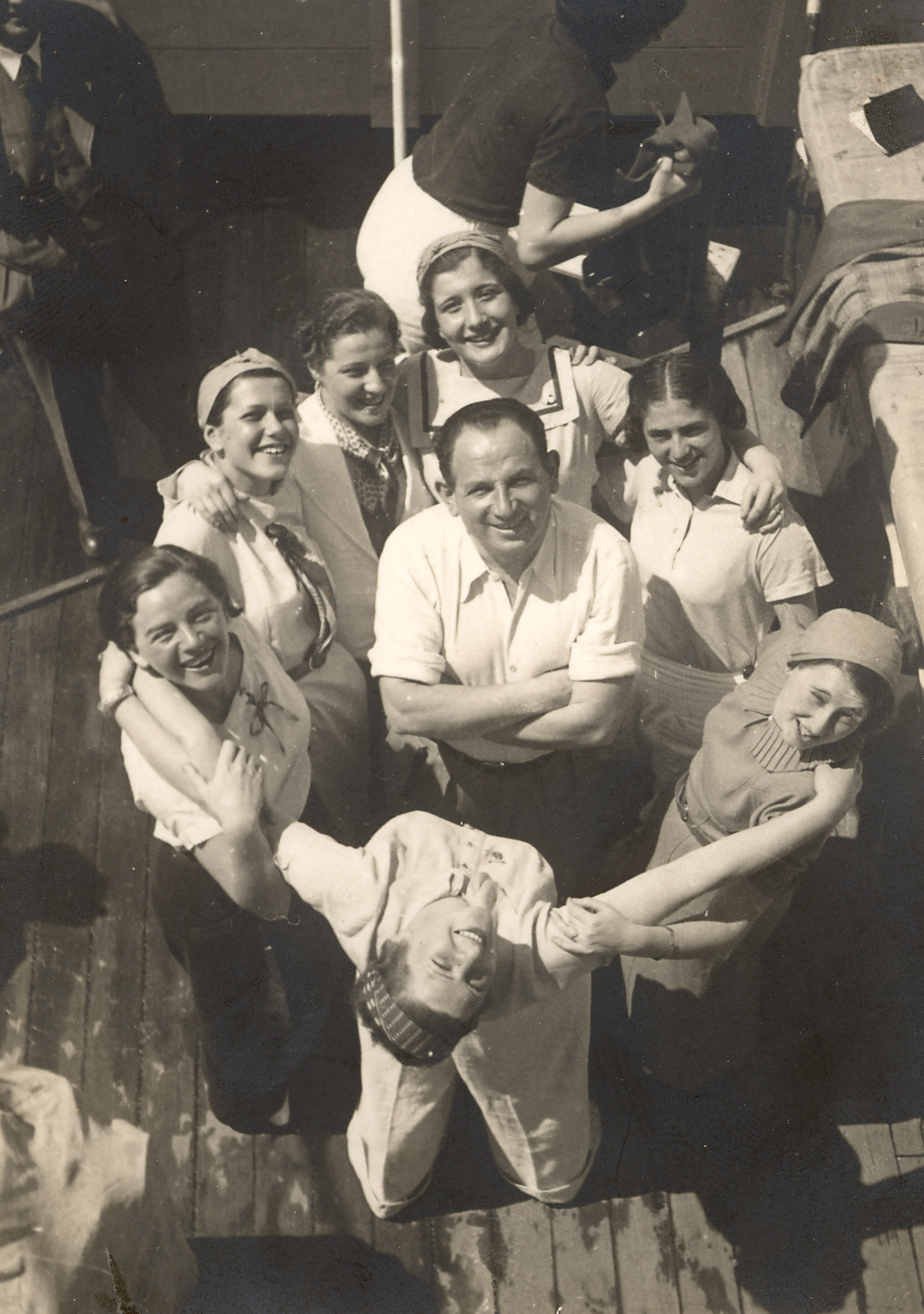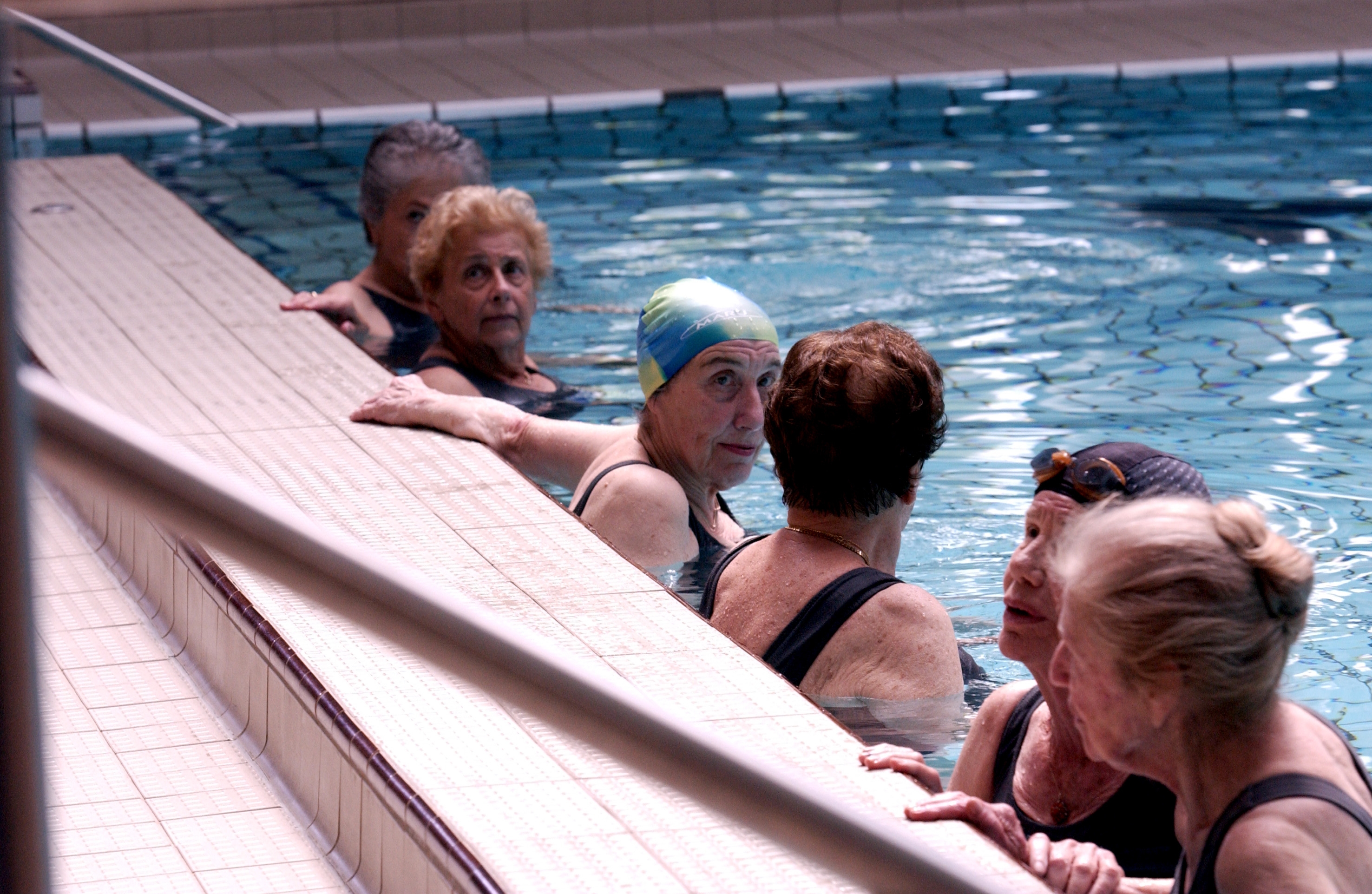 Then and Now—Ha Koach swim team members crowd around coach Zsigo Wertheimer,
circa 1935, and return to pool of past glories in 2004 (latter photo by Chris Van Houts)

In advance of the reunion, Ziberman had each of the octogenarians tell her story. Anne Marie, before agreeing to participate, insisted that she not be filmed in a bathing suit outside the water. Perhaps because of some other unexplained form of modesty, the swimmers' last names were not used in the documentary.

In the first section of the documentary, we see a cameo interview with Willie Ehrenreich, then 107, who had helped to found the tennis section of Ha Koach. Still lucid at his remarkable age, Ehrenreich explained that the sports club had been founded for Jews in 1909 after they were excluded from Christian clubs in Austria. Ha Koach—taking its name from the Hebrew word for "strength"— grew to over 3,000 members and before World War II came to dominate competitions in various sports, especially swimming.

In telling the stories of how they became involved with Ha Koach, the former swimmers told of the charismatic swim coach, Zsigo Wertheimer, a tough taskmaster who did his best to keep the minds of the teenage competitors on swimming and diving, rather than on boys or other diversions.

Judith was perhaps the best known of the swimmers. In her day, she dominated competition in the 500-meter and 1,500-meter crawl. Her sister, Hanni, with whom she reads poetry today in Herzliya, was a promising swimmer, "but Judith was the champion." Anne Marie, who today lives in the Kew Gardens section of London, won Vienna's Danube River championship. "We had to show them that what they could do, we could do better!" she explained.

In 1935, the women's swim team traveled to Tel Aviv to compete in the second Maccabiah, a competition in which their team won 18 medals. A swimmer named Elisheva said the trip changed her life. Instead of the hostility of the Austrians, she found the warmth of the Jews in the yishuv; instead of the cold formality in her own family between parent and child, she discovered families in which parents took a lively interest in what their children did. She decided to immigrate there—a decision her father greeted with withering sarcasm.

Yet, after the anschlus of 1938 which united Germany and Austria under Adolf Hitler's nazi regime, her parents in fact went with her to Palestine—able to do so, as were the families of all the Ha Koach swimmers, through the action of the club's president, Valentine Rosenfeld, and friends. Elisheva, who once studied psychology with Anna Freud, just last year met Erick, another former Ha Koach athlete, and they are dating. Yes, she assured Ziberman, there still is physical attraction between people in their 80s.

Prior to the 1936 Berlin Olympics, the Olympic torch was paraded through Vienna. In a poignant moment in the film, Hanni related to her Israeli granddaughter how various sports clubs, including Ewask, one that had adopted the nazi ideology, marched through Vienna— the cheers from both sides of the parade route deafening. But when the athletes of Ha Koach marched, the Jewish athletes could feel the hate coming from both sides of the street. There was complete silence.

Judith, although a national champion, refused to compete in the nazi Olympics—a decision that created such anger that the Austrian Sports Federation deleted all her records from the books. She became a non-person in Austria—at least until 1995 when the federation apologized and restored the records of her achievements..

Among the swimmers who participated in the reunion was Anni, 85, a breaststroker, who today is blind. She has the cover of her backyard swimming pool in Los Angeles folded back just a portion, in that way giving her the sensation of a swimming lane. Otherwise, she said, she would be liable to criss-cross the pool.

We watch as another American, Greta, 83, a former diver, who later would become a professor at Rutgers University, takes a cab ride through Vienna. The driver elicits from her that she had left Austria more than 60 years before. The driver observed that those were hard times—especially for people like her, "you weren't German, so to speak!" The words visibly slapped at her, bringing back all those emotions of exclusion and rejection.

Nanne, 83, once thought that she could move back to Vienna, but returned to the United States after Kurt Waldheim—who never would own up to his nazi past—was elected Austria's president.

In a Viennese cabaret, a male singer served up old favorites, including one that darkened the mood of the reunion. It was a "freedom song" which the inmates at the Buchenwald concentration camp had sung. "It upsets the reunion!" Erick complained to Elisheva. "It is enough!"

The group also went to a cemetery, where they placed stones on the grave of Hedy Wertheimer, wife of their revered coach. When one former swimmer nearly slipped, she said in a flash of humor, "Careful, I don't want to stay here—not yet."
The final moments of the documentary brought the swimmers back to their old pool. We see them in their white bathrobes heading from their dressing rooms to the pool for this reunion. Their moments back in the water are not to be missed.